Termite Removal & Control
Termites can cause significant damage to your property, and it's essential to take prompt action to prevent an infestation.
PEST CONTROL
Effective Termite Control and Removal
At Holder's Pest Control & Wildlife Services, we understand that each termite infestation is unique. That's why we take a comprehensive approach to termite control and removal. Our licensed and certified professionals will conduct a thorough inspection of your property to identify the extent of the infestation and the species of termites present.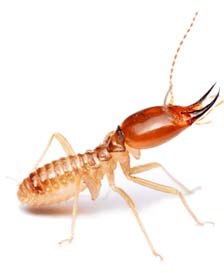 Protecting your Property with Preventative Measures
At Holder's Pest Control & Wildlife Services, we believe that prevention is the key to long-term termite control. That's why we offer a range of preventative measures to protect your property from future termite infestations. Our experts will work with you to develop a customized plan to reduce the risk of termite activity around your home or business.
Once we've determined the scope of the problem, we'll develop a customized treatment plan to eliminate the termites and prevent future infestations. We use only the most effective and environmentally-friendly treatments, including liquid treatments, bait systems, and foaming treatments, to ensure that your property is protected.
As a family-owned and operated business serving Jefferson, Athens, Gainesville, Buford, Winder, Braselton, and surrounding areas, we have the experience, knowledge, and tools to tackle even the most severe termite problems.
We may recommend measures such as:
Installing physical barriers to prevent termites from entering your property
Sealing cracks and gaps in your foundation to prevent termite entry
Removing sources of excess moisture, such as standing water or leaky pipes
Regular inspections to detect termite early termite activity.
TERMITE DAMAGE
The Destructive Impact of Termites on Homes
Termites are tiny insects that can cause significant damage to homes. These pests feed on cellulose-containing materials, which are commonly used in the construction of buildings. When left unchecked, termites can cause extensive damage to a home's structure and compromise its safety.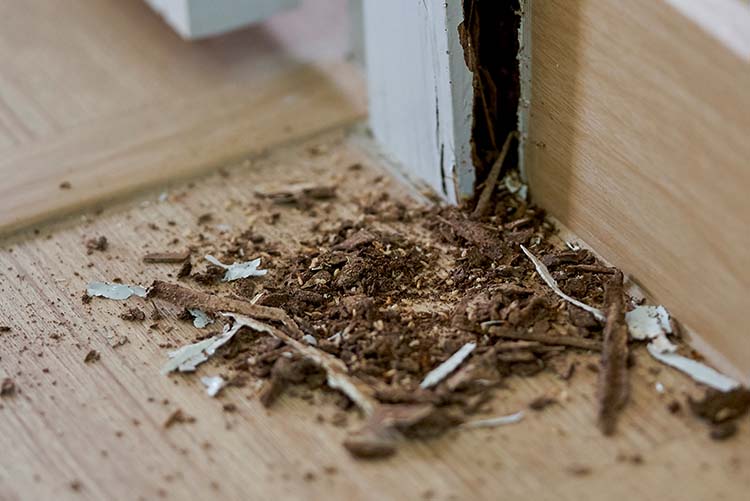 Termites Cause Structural Damage
Termites can compromise a home's structural integrity by eating through wood framing, flooring, and support beams. Over time, this can weaken the building, causing it to sag or even collapse. Repairing structural damage caused by termites can be expensive and time-consuming.
Damage to Furniture and Wooden Objects
Termites can also cause damage to furniture and other wooden objects within a home. They can chew through chairs, tables, and cabinets, leaving behind unsightly holes and weakened structures. This can lead to costly repairs or replacement of furniture and other affected items.
Prevention and Treatment
Regular inspections by a professional pest control company can help detect termite infestations early and prevent significant damage. Treatment options include chemical barriers, baiting systems, and fumigation. Preventive measures such as removing wood debris from around the home, repairing leaky pipes, and ensuring proper ventilation can also help deter termites.
Termites can cause significant damage to homes if left unchecked. Structural damage and damage to furniture and wooden objects can lead to costly repairs or replacement. Regular inspections and preventive measures can help detect and prevent termite infestations, protecting your home and your wallet.
Schedule an FREE Estimate
We guarantee our pest control services with free callbacks in between services and a 1-year warranty on our wildlife removal services.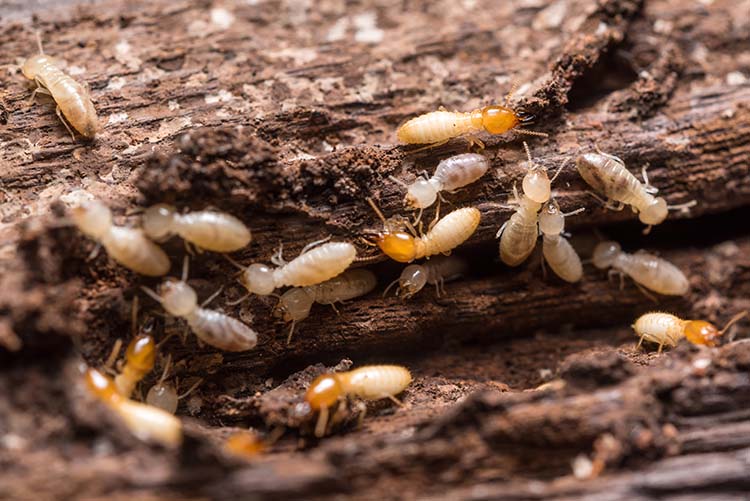 Types of Termites Found in Georgia
Georgia is home to several species of termites, and it's important to understand the types of termites that may be present in your area.
Eastern Subterranean Termites: The most common species of termites found in North Georgia, Eastern Subterranean Termites live in underground colonies and can cause extensive damage to homes and businesses.
Formosan Termites: Known for their aggressive and destructive behavior, Formosan Termites can cause significant damage in a short amount of time and can be difficult to control. They are found in North Georgia.
Drywood Termites: Although less common than subterranean termites, Drywood Termites are present in North Georgia. They do not require contact with the soil and can infest dry wood in homes and businesses.
Dampwood Termites: Another species found in North Georgia, Dampwood Termites are attracted to damp or decaying wood and can be found in homes with leaky pipes or other sources of excess moisture. They cause less damage compared to other species of termites.
Conehead Termites: Conehead Termites are a newer invasive species that have recently been found in North Georgia. They are highly aggressive and destructive, and can quickly damage wooden structures.
FREQUENTLY ASKED QUESTIONS
Learn more about termite removal and control:
Termites are small, but incredibly destructive insects that can cause significant damage to homes and buildings. Here are answers to some of the most common questions about termites, including how to identify them, prevent infestations, and treat existing termite problems.
We
❤

Our Customers

Don't take our word for it, see what our satisfied customers have to say about our pest control services.